ISO 9001 & ISO 14001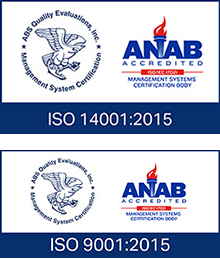 SUPERFAST FERRIES vessels are certified under the International Safety Management Code (ISM), related to the provisions of SOLAS for the protection of human life at sea, and the Quality Management System ISO 9001:2015. Auditing and certification as per ISO 9001:2015 was carried out by ABS Quality Evaluations, a highly respectable organization and member of the international American Bureau of Shipping Group (ABS).

Certification under ISO 9001:2015 constitutes recognition of the high level of services offered by our Group.

In addition SUPERFAST FERRIES are certified under the Environmental Management System ISO 14001:2015 by ABS Quality Evaluations and under ISO 22000 the new international standard for HACCP (food and beverage hygiene system).

Bureau Veritas

Our vessels have been inspected, certified and awarded the sticker "SAFEGUARD" by Bureau Veritas (BV) (World leader in laboratory testing, inspection and certification services). BV recognized that our vessels fully implement the required hygiene procedures and measures in order to address biological risks, as posed by COVID-19, aiming to protect public health.