On July 13th, 2010, Condé Nast readers voted SUPERFAST FERRIES as "the most popular carrier on both domestic and international routes for Greece and Cyprus" in the Condé Nast Traveller Awards 2009.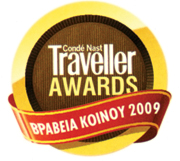 High-quality service, innovative ship design and a wide variety of itineraries were just some of the factors that hat influenced the voters' choice.
These are the first annual readers' awards organized by the Greek edition of Condé Nast Traveller, a magazine that is a point of reference for all seasoned travelers. The long-term goal of the Condé Nast Traveller Awards is to become an institution in the travel and tourism industries.
SUPERFAST FERRIES owns and operates a fleet of 5 ultra-modern car-passenger ferries which operate between Greece and Italy and between Piraeus and Heraklion and is a 100% subsidiary of Attica Group. Attica Group is active in passenger shipping through its subsidiaries SUPERFAST FERRIES and BLUE STAR FERRIES which offer modern, high quality transportation services in Greece and abroad.