All passengers between 17 and 25 years old are entitled to a 20% discount, on all routes.
Discount also applies on fares for vehicles up to 6m long & 2m high, vehicles up to 6m long & over 2m high, cars with roof box over 2 meters high and motorcycles. Not valid for trailers.
The discount is valid for Camping on Board reservations.
Holders of the ISIC student card (International Student Identity Card) and the EYC card (European Youth Card) are also entitled to the 20% discount, regardless their age.
Youth passengers under 18 years old traveling in cabins must be accompanied by an adult.
The discount does not apply to fuel surcharge, to fares for pet carriage and to Pure cabin surcharge.
Discounts are not cumulative and only one of them (the greater) is granted at a time (unless otherwise stated in the reduction terms).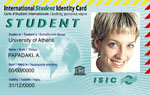 Jointly operated with ANEK Lines
Find out about the fuel surcharge here