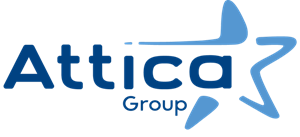 Dear Customers,

In ATTICA GROUP, driven by a high degree of responsibility, we actively participate in the collective effort to limit the spread of the SARS-CoV-2 coronavirus as well as in the protection of public health, following the appropriate instructions of the competent public health authorities in the countries we operate.
With consistency and responsibility, we continue to implement an array of measures on all our vessels, before and during the trip, in order to safeguard the health of both our passengers and our staff.
Our highest priority is to protect you, from the moment you book your ticket until you reach your final destination, so we take all necessary measures in order to be ready for you when you will be ready to travel with us again.


1. TRAVELLING WITH OUR FERRIES
We intensified the processes of cleaning and disinfection of cabins and public areas. Our crews have been trained to disinfect all areas of the vessels, using appropriate and certified disinfectants at regular intervals. In addition, a specialized certified partner is frequently performing microbial disinfection of all areas with the cold spray method (ULV).
Our vessels have modern continuously (24-hours) operating air conditioning units, with special air filtration systems that provide 100% natural air inside the vessels, without recirculating the air from cabin to cabin and at the same time, keeping a constant temperature of 25o-26oC in order to prevent the formation of moisture. In addition, frequent cleaning with specially certified chemicals and change of the filters of each unit is being applied.
Linen is cleaned and disinfected following all the prescribed health protocols; washing is taking place per type of linen with the appropriate detergents at high cleaning temperatures while ironing is performed with cylinders at a temperature of 170o-180οC.
Our vessels have the appropriate equipment (masks, gloves, special kit), while special cabins (οr areas) have been prescribed on each vessel in order to isolate any suspicious individual case, ensuring the health of passengers and crew.
Our vessels have been inspected, certified and awarded the sticker "SAFEGUARD" by Bureau Veritas (BV) (World leader in laboratory testing, inspection and certification services). BV recognized that our vessels fully implement the required hygiene procedures and measures in order to address biological risks, as posed by COVID-19, aiming to protect public health.
The crew of our vessels is fully trained on hygiene and precautionary matters for Covid-19, and they are properly informed in order to handle any suspect case on board in cooperation with the competent Authorities.
The large exterior deck spaces that our conventional vessels offer are ideal for each trip.


2. BEFORE THE TRIP
Book your ticket online. Choose your seat online in a simple, fast and secure way and get your ticket.
Sale of air type seats is configured in order to follow the protocol "one seat occupied, one seat empty in all directions". During your reservation, seats that are not used, will not be available.
Each cabin is provided for use by up to two passengers, unless it is a family of up to 4 persons, or disabled passengers with their attendant.
Before boarding the vessel, it is necessary to fill in the "Pre-boarding" screening form and deliver it to the vessel's Purser along with your ticket while boarding.
We recommend you to arrive at the port of departure on time to facilitate the check-in process before boarding.
Passengers should not travel if they have symptoms of COVID-19 infection (cough, fever, sore throat, shortness of breath and other respiratory symptoms) or have been in contact with a COVID-19 patient the last 14 days before the trip.


3. DURING THE TRIP
We keep wearing our mask throughout the trip, both indoors and in the open decks. When coughing or sneezing, the use of a tissue is strongly recommended in order to cover the nose and the mouth. The tissue should be disposed off immediately by throwing it into a garbage bin.
We wash our hands regularly with soap and water or use an antiseptic solution and we avoid contact of hands with the face (eyes, nose, mouth). All our vessels are equipped with antiseptic solution in specially designated areas, both for passengers and crew.
We keep the minimum distance of 1.5 meter with other passengers when embarking and disembarking as well as in all indoor and outdoor areas. Passengers are not allowed to sit close to other passengers, unless they are travelling together. The vessel's crew will observe the prescribed distances.
We follow the floor markings when we are waiting in a queue, in all service areas such as the reception, restaurants/bars, shops, toilets, in order to keep the prescribed distances.
In the lounges we use only the seats prescribed as available for use in order to keep the necessary distances.
We have placed protective plexiglass divider at the reception of our vessels, in order to observe the necessary safety distances.
We avoid unnecessary wandering inside the vessel and we take special care of children.
The use of elevators is only allowed for the disabled and the elderly passengers and a maximum number of 2 passengers is permitted to simultaneously use the elevators.
We apply strict operational measures to all vessel's catering facilities. Dishes and cutlery are washed in special washing machines at temperatures above 70οC, ensuring the elimination of all pathogens. Additionally, in all catering points, cutlery is packaged individually and passengers cannot be served by themselves. All food and beverages are delivered in person to each passenger by the competent crew members, following all the hygiene rules.
Catering operations on our vessels have been contracted to a concessionaire who is certified with ISO22000, Food Safety Management System, and applies HACCP principles (Hazardous Analysis Critical Control Point), ensuring hygiene-safe food preparation for our passengers.
We keep our passengers well informed about COVID-19 prevention measures with continuous relevant announcements through our public address system and by displaying informative messages on the vessels' monitors.
If passengers develop respiratory symptoms during the trip (high fever, cough or difficulties in breathing), they must report this immediately to the vessel's crew.


For the last 3 months, in the midst of travel restrictions, we continued sailing in order to maintain the country's social cohesion, proving that our support for the well-being of the island communities is steady and constant.
We continued to connect the Greek islands with the hinterland, ensuring the emergency travelling of islanders and the supply of the islands with all the necessary goods, as well as the transport of medical staff and supplies for local health centers.
Today, after the relaxation of the travel restrictions, we have significantly increased our daily sailings, aiming to support the island economy and the Greek tourism to achieve the much wanted "restart".

With new reduced prices, we are ready to welcome you in our vessels, ensuring you that your protection and best possible service is always our first priority.
All of us in ATTICA GROUP, each one personally, we are now more committed than ever to do our best to travel you responsibly.
Thank you for choosing to travel with us!

Spiros Paschalis
CEO Attica Group
Kallithea, June 11, 2020