Attica Holdings SA (Attica Group), member of Marfin Investment Group, was honored as "True Leader", Group-Leader, during the ICAP "True Leader" Awards held on Tuesday, October 27, in the presence of the Minister of Economy Mr. Stathakis and business executives of the most profitable business entities of Greece.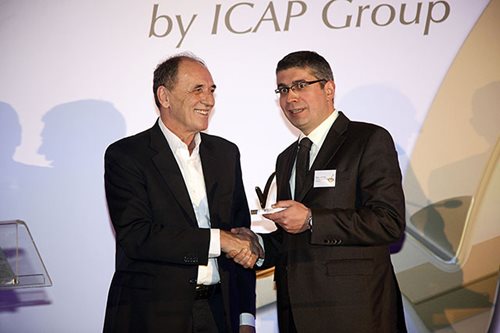 The ICAP Group, the only company recognized as a Credit Rating Agency by the Hellenic Capital Market Commission and the corresponding European authority ESMA (European Securities and Markets Authority), distinguishes since 2011 the Companies and Groups – Leaders, based on four measurable criteria, namely Profitability, Increase of Employees, High Creditworthiness (ICAP Score) and Leading Position in their industry.

The distinction of "True Leader" means that for the year 2014 Attica Group:
Is included in the 200 most profitable Groups, according to Business Leaders in Greece publication, holding the 38th place with € 42 million EBITDA.
It is among the Groups with the largest number of employees, ranking 78th in the Leading Employers list, with 900 employees.
Is a Leader in the industry.
This distinction confirms the leading position of Attica Group in the sector of the Greek passenger shipping and in the Greek business scene in general, classifying the Attica Group among the top corporate Groups of the country.
The award was received by CEO of Attica Group, Mr. Spiros Paschalis, who after the ceremony stated:
"This important distinction recognizes the efforts of our Group to remain unscathed by the unprecedented economic crisis we are experiencing, maintaining its leading position in the passenger shipping sector, its values and the quality for which it became known. We thank the ICAP Group for this recognition.

We have repeatedly stated that the central pillar of our success is our people. We rely on our employees, our crew and shore personnel, who with continued support, love for the company and for our passengers, continue to give their best every day, despite the difficulties of the Greek reality.

We continue on the same path, making the same effort to improve our numbers, to create new services, to expand into new markets, in order to be Leaders in the coming years. Attica Group is engaged in the passenger shipping industry through its subsidiaries SUPERFAST FERRIES and BLUE STAR FERRIES with 13 modern and technologically advanced vessels, providing high quality transportation services for passengers, cargo and private vehicles in Greece and abroad. Attica Group is a member of the Marfin Investment Group, the largest Greek business group.
Athens, 29 October 2015