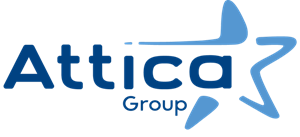 Attica Group published its 14th Responsibility and Sustainability Report, presenting its business activities with transparency and accountability.
Attica Group's Responsibility and Sustainability Report:
Refers to all Group activities related to maritime transportation in the Eastern Mediterranean during the period 1/1/2022-31/12/2022
Follows the international Global Reporting Initiative's (GRI) Sustainability Reporting Standards (version 2021), being the first passenger shipping company worldwide issuing a Report in accordance with the GRI Standards
Incorporates an ESG structure and presents its relevance to the Report's content as far as:

The 10 Principles of UN Global Compact
The UN Sustainable Development Goals
The ISO 26000 International Guidelines
The NASDAQ Stock Exchange ESG Guidelines
The Athens Stock Exchange ESG Reporting Guide 2022
The Recommendations of Task Force on Climate-related Financial Disclosures (TCFD)​

​Has been audited and certified by auditing firm Grant Thornton for 31 key quantitative indicators.
Makes reference to 94 GRI disclosures and 280 quantitative indicators (compared to 270 in the previous year), as well as 44 future objectives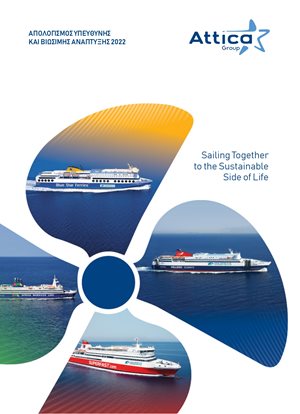 Among others, Attica Group in 2022:
Reduced its greenhouse gas emission intensity (Scope 1 and Scope 2) by 2.5% per nautical mile traveled
Reduced office electricity consumption by 8.7%
Distributed approximately €683.5 million in economic value:

€100.8 million to employees (for salaries, benefits and insurance payments),
€82.6 million for taxes (including VAT and port taxes),
€47.9 million to providers of capital (for interest and return payments),
€28 million to agents (for commissions),
€374.9 million to suppliers (for goods and services purchased),
€2.7 million to society (for discounted tickets, social initiatives, sponsorships and donations) and
€46.6 million for investments

Reached out to over 1.7 million customers on Corporate Responsibility and Sustainability issues, such as environmental protection
Increased the total value of implemented or supported society aid programs (e.g. discounted tickets, sponsorships and donations) by 77.7%
Increased the number of employees participating in volunteer activities and employee volunteering hours by 52.7% and 91.4% respectively
Implemented or supported 173 society aid programs in all of the islands it serves. ➢ Has defined Responsibility as 1 out of 6 appraisal criteria for all office employees
Identified only 1 case of violation of its main principles and rules of professional behavior in the last five years
Made 97.5% of its premises and vessels accessible to the disabled
Trained (at least once) 92.8% and 3.7% of office and marine employees respectively on skills and competencies training.
Spent 87.3% of total procurement expenditure on local suppliers and 13.8% on small and medium-sized enterprises (with up to 50 employees)
Continued the voluntary blood donation program, having collected 175 blood units in the last three years
Increased the number of published quantitative indicators within the Report by 3,7% for transparency purposes
Commenting on Attica Group's Report, the Group's Chief Executive Officer Mr. Spyridon Paschalis stated:
For all of us at Attica Group, our path towards Responsible Operation is based on the tripartite 'Strategy – Communication – Results', with integration of ESG principles in every new investment project and our daily operations, while considering our national economy's growth.
The principle of Responsible Operation becomes increasingly multi-faceted, in response to challenges the passenger shipping industry faces, with the most important being the fleet's decarbonization, aligned with the need to renew fleets with environmentally friendlier vessels. The combination of European Union legislation (Green deal) and IMO regulations creates a challenging framework, to which we have to swiftly adapt, without however having the technology to support the respective green transition available. Within the context of the shipping industry's 'green' transition, our Group has finalized its new Environmental Strategy and Decarbonization Roadmap until 2030, and has defined specific actions and objectives to reduce greenhouse gas emissions, which have been adapted to the current technological maturity and commercial/economic viability of various available solutions.
Through the Report, we present in detail our improvement in Corporate Responsibility and Sustainability maturity level, which according to our measurements was 11.9% compared to 2020. We remain committed to continue our efforts to operate responsibly and work harmoniously with our Stakeholders (e.g. Customers, Suppliers, Shareholders, Local Communities), as well as respecting the Environment, in order to create mutual long-term value, as reflected in our Vision, Mission and Values, but most of all in our employees' Ethos.
Attica Group is engaged in passenger shipping through SUPERFAST FERRIES, BLUE STAR FERRIES, HELLENIC SEAWAYS and AFRICA MOROCCO LINK, operating 35 vessels providing modern, high- quality transportation services in Greece and abroad. Attica's vessels serve 60 unique destinations in 4 countries, connecting 76 ports and transporting more than 7 million passengers, 1 million passenger vehicles and 400,000 trucks every year. The 2022 Responsibility and Sustainability Report is available on the Group's website, www.attica-group.com.
Kallithea, 12 April, 2023